As part of Colleges Week 2023, today we're celebrating Hospitality at Activate Learning.
We offer a variety of hospitality and professional cookery programmes at four of our colleges, from Further Education to Apprenticeships and short courses.
Our colleges include training kitchens where our students learn their craft in industry-standard facilities.
Paul Buckey, Hospitality and Catering tutor at City of Oxford College and University Centre, said: "Colleges are vital to the hospitality sector and provide the perfect nurturing ground for aspiring professionals that want to go into this industry.
"We provide spaces for people to grow and develop, helping them to refine their skills with each challenge they embrace, so that they are then able to go out into the workplace.
"Through our engagement with employers we are able to bridge the gap between college education and the real world of work, and take pride in knowing that we are setting our learners up with the skills that both they and employers need.
"This, combined with our industry-standard facilities, means students can hone their craft and ensure they are well-prepared to meet the rigorous standards of the hospitality sector."
Enhanced learning environments
At City of Oxford College and University Centre and Reading College and University Centre, our restaurants which are open to the public, help our students sharpen their culinary skills. All our menus have been created to challenge our chefs to enhance their customers' dining experience.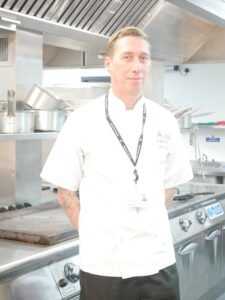 Paul Foley, Professional Cookery Teacher at Activate Learning, said: "The facilities that we have at college are fantastic. The kitchens have industry-standard equipment, so students don't have any surprises when they finish with us and go into the industry.
"We offer a three year pathway where we fine-tune skills and terms that you'll hear used by professionals. I find that sometimes when people learn on the job, they can be taught the wrong way so it's about teaching them the correct way, to rejuice, to prepare and teaching them the understanding behind the products that we're producing in training and in restaurant service.
"City & Guilds is a recognised qualification in the hospitality industry that employers look for.
"They also get to bond with other students, building those friendships which can go on for many years afterwards."
Find out more about The Kitchen at Reading College and University Centre and the Pop-up restaurant at City of Oxford College and University Centre.
Work experience placements
We organise work experience placements to give our students a taste of their future careers.
Aser Andarge is studying a Professional Culinary Arts Level 3 Advanced Technical Diploma at Reading College and University Centre.
In June 2023, as part of his Professional Culinary Arts Level 2 Diploma, Aser did a work experience placement at Royal Ascot with 1711 by Ascot. 1711 by Ascot is a partnership between Royal Ascot and hospitality company Sodexo, delivering outstanding hospitality, fine dining and on-site catering experiences.
He said: "I enjoyed working with people from different backgrounds with varying levels of skills at Royal Ascot. I got to work in lots of different areas and restaurants, which has given me lots of different experience of working in a fast-paced environment.
"The work experience is unreal! I met a lot of high-grade people, including the Head Chef of Manchester City Football Club. It's one of my dreams to work as a chef for a football club.
"It's helped me to see a career path and driven me more to do what I love, which is cooking. I see myself doing this in the future."
Employer events
We regularly invite employers in to connect with our students.
A recent example is when students at Reading College and University Centre met employers at a Hospitality Careers Event on Wednesday 6 September.
The event gave students studying our Professional Culinary Arts programmes the chance to meet employers and find out about work experience, part-time roles and apprenticeships opportunities.
Five employers took part in the event: Brunning & Price, Double Tree by Hilton St Anne's Manor, Heckfield Place, The Belgian Arms and The Bladebone.
David Thompson, Director of The Belgian Arms, said: "We've spoke to lots of young people.
"It was really good to meet the young college students who wouldn't have had access to this part of the industry, which can help us to fill vacancies."
Further Education Hospitality and Professional Cookery programmes
Our full-time Further Education programmes are offered in:
Berkshire:
Oxfordshire:
Surrey:
Part-time courses
We offer part-time courses:
Berkshire:
Reading College and University Centre
Oxfordshire:
Banbury and Bicester College
City of Oxford College and University Centre – city-centre campus
Hospitality and Catering apprenticeships
We offer Commis Chef Level 2 apprenticeships.
Interested in a construction apprenticeship? Look at our current apprenticeship vacancies online.
Alternatively, if you have an employer you would like to do an apprenticeship with, please contact Activate Apprenticeships.
Hospitality news stories
Find out about what our Professional Culinary Arts students have been up to across Activate Learning:
Hospitality employers meet the next generation
Reading students cook up a storm at Royal Ascot
Young chefs experience sustainable cooking
Case studies
Meet our student, Orin to find out what he had to say about studying at Activate Learning.
Want to learn more about life at college or our#CollegesWeek2023 celebrations? Come say hi via Activate Learning's social media channels!