Students from Reading College and University Centre got a taste of what it is like to cook and work in a sustainable venue when they visited a luxury Hampshire hotel.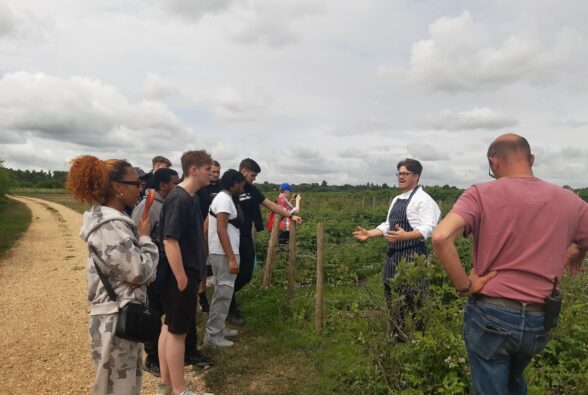 The Level 2 Professional Culinary Arts students paid a visit to Heckfield Place and its Green Michelin-starred restaurant Marle, which came with a tour of its organic farm and biodynamic market garden.
Heckfield Place is a Georgian family home lovingly restored from its classical origins and transformed into a luxury hotel standing on 400 acres of secluded Hampshire landscape.
The kitchen sources produce from the market garden, or from as nearby as possible, ensuring healthier and more delicious food as well as greatly reducing food miles, deliveries to site, and traffic on the local road.
Young chefs learn from Marle chefs
As part of the visit, the students picked some produce which they took back to the professional cookery kitchens at college, where they created a six-course meal, under the direction of Marle's Head Chef and Senior Sous-Chef Fred Page and Tony Krajcir.
The pair also showed the students how to prepare ingredients in ways that minimised food waste and how one ingredient can be used in a variety of ways to create different dishes.
The students prepared steak tarte tartare, brown crab bellinis with a mango salsa, Cornish crab with home-grown cucumbers and olive oil aioli, trout carpaccio with a gooseberry jam and crème fraîche, saddle of lamb and fillet of beef, with Swiss chard, roasted beetroot and a borlotti bean cassoulet. For dessert, the students prepared roast hazelnut meringue, served with cream and summer berries.
Aser Andange is studying a Professional Culinary Arts Level 2 Diploma at Reading College and University Centre.
He said: "I really enjoyed the experience because it was very creative and artistic as we got to pick different ingredients and turn them into something better, funnelling it into one plate.
"I prepared the dessert. I used the fresh flavours and added a bit of sugar, which brought out the flavours of the fruit.
"It was interesting to see how you could take something like a humble carrot and turn it into a soup, you could roast it, baste it, all sorts and create something different. I really enjoyed it because it shows you the other parts of growth and different sides of creativity which you can use.
"It expanded my horizons and taught me how to take something simple and turn it into an expensive dish, which is amazing! They also taught us different techniques like how if you leave fruit in water for too long, it can run down the flavour or simple ways to serve fresh fruit."
Hayden Rushby, Hospitality Lecturer at Activate Learning, said:
"The trip to Heckfield Place and masterclass afterwards was a good experience for the students, as it took them into a different environment from what they're used to working in.
"It showed them a different and new way of cooking, which is coming up in the industry of growing and using your own ingredients, which they haven't experienced before. It helps them to understand the simplicity of using for example, beetroot, in three ways, each with its own flavours because it's been unitised in different ways.
"It opened their eyes to see what they can achieve and see how they can use ingredients from a delivery from a farm. The trim can be used as compost to go back into the farm or ingredients such as elderflowers can be used to make cordial."
Fred Page, Head Chef at Marle, Heckfield Place, said:
"The students enjoyed visiting the farm as not many of them had been to a farm like ours.
"It was interesting for them to see where ingredients come from and how closely you can work with produce especially in today's world.
"I really enjoy working with young chefs and trying inspire them in a way that I believe, is the best way to work with produce. It was fun to see them pick ingredients from the market garden and farm, cooked with it and served it to guests in one day, which is quite a special thing to do."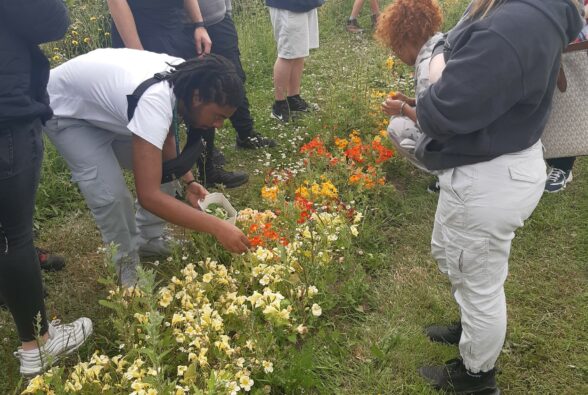 The importance of sustainability
This experience also demonstrates one of Activate Learning's strategic drivers, sustainability. As a values-driven organisation, we recognise that our resources are finite and precious, and we do not want to waste them. As an organisation that wants to offer the highest quality to its staff, students and employers, we wish to use our resources in an effective and efficient manner.
From the curriculum we deliver, to the carbon footprint of our campuses, Activate Learning recognises that we have a duty to ensure everything we do is considered against the backdrop of the impact it will have on both our local and global environment. We also recognise that we have a duty to create learners who are more environmentally aware and are able to make informed choices.
Discover our Hospitality and Professional Cookery programmes available at Reading College or contact us on 0800 612 6008.
Those interested in career opportunities at Heckfield Place can contact the team directly at hr@heckfieldplace.com.