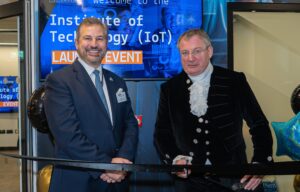 Activate Learning is delighted to announce the official opening of the new South Central Institute of Technology (SCIoT) hub at the City of Oxford College Technology Campus in Blackbird Leys.  
The Oxford SCIoT hub was officially opened on 24 November by Mark Beard, High Sheriff of Oxfordshire and Gary Headland DL, Chief Executive at Activate Learning, in front of specially invited guests and partners. 
The development of the new SCIoT hub has seen almost £3 million invested into the City of Oxford College Technology Campus to create a completely unique building within the college, specialising in the delivery of higher level technical and digital education.  
The hub will focus on the specific skills required in the local area, with the aim of providing employers with a technically skilled workforce and students with a clear route to technical employment. By bridging skills gaps, this new institute will drive growth and widen opportunity in Oxfordshire.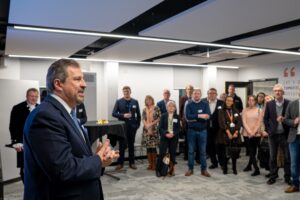 A centre of technological innovation
Gary Headland DL, said: "This is a brilliant new facility and a multi-million pound investment in Oxfordshire that's creating new capability in cyber security, data analytics and digital career paths.  
"Technology is for everyone, it's in every career and every sector. This is quite niche, in the sense that we're creating people for specific roles but it's also going to become a centre for innovation where we look at technology in every sector.  
"This is the beginning of something incredibly special and we're really proud of this investment. We're looking forward to seeing the impact on the local community and those travelling to Blackbird Leys to benefit from this amazing asset." 
The hub will form part of the wider SCIoT that was established following a successful bid led by Milton Keynes College. SCIoT works alongside prestigious partners including Microsoft, KPMG, McAfee, CCL Evidence Talks, and Cranfield University. The Oxford SCIoT hub will compliment Activate Learning's Reading SCIoT hub at Reading College alongside the Milton Keynes College SCIoT hub at Bletchley.  
It has been specifically designed to allow students to collaborate and engage with teaching and learning across the entire SCIoT.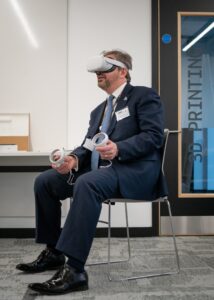 Include, Innovate, Connect and Challenge
Alex Warner, Principal of the South Central Institute of Technology, said: "We are delighted to open the second of three capital build projects. Each one exemplifies the values of SCIoT: to Include, Innovate, Connect and Challenge.  
"All learners will know that they matter, and they belong at SCIoT. The hubs are intended to be different by design and offer unique learning experiences. Technologies throughout the buildings will connect learners across the three campuses, but critically, also connect to our industry partners who support curriculum delivery. 
"We are very ambitious for our learners and that starts with providing industry standard and excellent facilities. 
"The delivery of the new SCIoT in Oxford will be overseen by consortium partner Activate Learning." 
An important aspect to the work that is being done by the SCIoT is the ongoing collaboration with industry partners to continually enhance the offering to learners and ensure standards are in line with employers' expectations.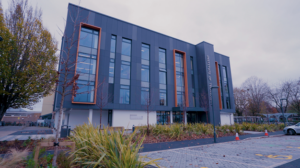 Improving skills in the sector
Elizabeth Sheldon, Executive Director at CCL Solutions Group, said: "I have been involved with the SCIOT since its' inception back in 2017 and it gives me enormous pleasure to Chair the Anchor Partner and Strategy Group.  
"My background is in the security sector developing digital forensic tools and with the work I do with Government committees on improving skills for this sector I am aware of just how important the Institutes of Technology are to our nation, our students and future UK work force. 
"Working with industry allows our SCIoT student the opportunity to see first-hand current trends and projects and work with potential future employers through apprenticeships but also via projects and courses." 
To ensure students can easily access the City of Oxford College Technology Campus, Activate Learning and Oxford Bus Company have launched a dedicated term-time bus route from Oxford Railway Station.  
The new 5X service ensures students from neighbouring towns in Oxfordshire can easily access the campus.  
Discover South Central Institute of Technology courses or contact Activate Learning on 0800 612 6008 to find out how you can work with them as an employer partner.