Students at Activate Learning's City of Oxford College and University Centre are celebrating today after collecting their successful GCSE exam results.
94% of students taking full-time GCSE programmes or standalone maths and English GCSEs at City of Oxford College and University Centre's City-Centre Campus and Technology Campus in Blackbird Leys, achieved a pass in this year's exams.
Many of the college's GCSE students are learners who resit maths, English or both, to continue in education or progress their career.
This includes mature students who need these GCSEs to progress in the workplace, learners who may have missed the chance to go to university and want to study at degree level, alongside part-time students who have studied GCSEs at evening classes.
Cheri Ashby, Deputy Chief Executive of Activate Learning, said: "I would like to wish a massive congratulations to the thousands of students who are collecting their successful GCSE results from across our Activate Learning colleges and online provision today.
"For many of our students receiving their GCSE results today, this isn't their first attempt at them. Which is why, for me, it makes it all the more satisfying, as we get to see people succeeding where they previously haven't and overcoming the challenge of previous failure, where they've pushed themselves to achieve. This is testament to our Learning Philosophy and the work we do with students to make them realise that previous failure doesn't determine future success.
"We have seen some remarkable results today across our both our colleges and our online provision, which continues to go from strength to strength.
"For many of our learners, today's results will open a door to further education and training opportunities or allow them to take up work opportunities they wouldn't have been able to previously.
"For those students who are due to join us next year, I hope everyone has done as well as they had hoped. Please remember that if you have not, we are always here to help you work out what you can do next and talk through your career options with you. Our colleges are part of our local communities and we here to support anyone who needs help."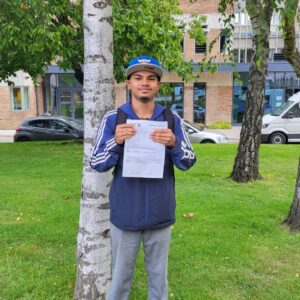 Aimi Barton, is a mature student who studied her English Language GCSE online with Activate Learning and sat her exams at City of Oxford College and University Centre.
She was delighted today to discover she had received a grade 8, which will now allow her to go on to take up a place on a Master's programme at Staffordshire University in Criminology and Criminal Justice.
Aimi said: "I went back to university a few years ago and just finished my degree, but I decided I wanted to carry on academically, but I needed my English GCSE to do the Master's I wanted to do.
"I'm so pleased to get this result. My tutor, Dionne Meade, was fantastic. She was really invested in all of us all the way through and pushed us."
Aimi said this result was a stark contrast to where she was at 16, growing up in Macclesfield.
"I was never really pushed academically growing up, and never thought about doing anything academic. I didn't think it was something I could do. I'm really pleased I've achieved this as it will show my kids that it's possible," she added.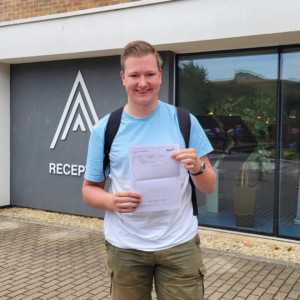 Purvi Patel was another mature student celebrating today after getting a grade 8 in Maths (Higher Tier).
Purvi, who is a Level 4 Data Analytics apprentice at Activate Learning, needed at least a 4 as a requirement for her apprenticeship.
She said: "I'm pleased with this, we had done a lot of preparation and so I felt ready for the exam and most of what we prepared for came up.
"I would like to give my special thanks to Antonio, my tutor. He has been so helpful for everyone on the course and he's always been there for us."
Purvi plans to celebrate her success by going for cake with her two children
She joked: "My daughter will be doing her GCSEs in a few years and I've told her she needs to get a better grade than me in maths."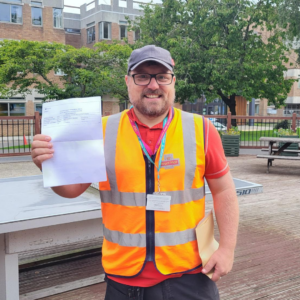 Henry Edwards resat his English GCSE alongside his Level 2 in Public Service and achieved a grade 4 in his English GCSE.
Now that Henry has passed his English GCSE, he is delighted to be able to progress onto Level 3 Public Services and plans to join the police force when he has completed his studies.
Henry said: "I'm so pleased that I passed, as I have dyslexia, so it was a challenge for me and I'm very proud of myself.
"I really enjoy the Public Services course and passing my GCSEs means that I can progress onto the next level and go into the career that I want."
Paul Saunders is a mature student who achieved a grade 5 in his Maths GCSE this year.
Paul said: "I'm really pleased with my grade, as I think it will help me progress further within work and move up the career ladder.
"I really enjoyed learning at college. My teacher, Antonio, was very supportive and great at his job, and my study partner pushed me to do my best."
City of Oxford College and University Centre offers part-time GCSEs in English and maths. The college also offers two full-time GCSE pathways, the humanities pathway consists of English, maths, history, geography and sociology. The science pathway consists of combined science, English, maths and statistics.
The college also offers a wide range of A Levels including Art and Design, Biology, Business Studies, Computer Science, Chemistry, English Language and Literature, English Literature, Further Mathematics, Geography, History, Law, Mathematics, Media studies, Physics, Philosophy and Religious Studies, Politics, Psychology, Sociology and Spanish.
City of Oxford College and University Centre also offers a variety of vocational programmes in Art and Design, Beauty Therapy, Business and Enterprise, Construction, Early Years, Engineering, Esports, Furniture, Hairdressing, Health and Social Care, Hospitality and Professional Cookery, IT and Computing, Media, Media Makeup, Motor Vehicle, Music, Performing and Production Arts, Public Services, Sport and Tourism.
Additionally, City of Oxford College and University Centre's extensive network of business partners means they provide outstanding apprenticeship opportunities via Activate Apprenticeships.
This year, City of Oxford College and University Centre is providing information, advice and guidance via Clearing sessions at the college from GCSE Results Day, and throughout the end of August and September. Tutors and career advisers will be on hand to help anyone who is unsure as to what to do next after GCSEs, and can also provide advice on funding and other student support services.
Clearing sessions can be booked on the Activate Learning website.