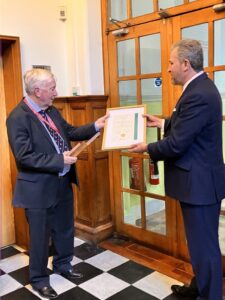 Today, Farnham College celebrated its 50th anniversary alongside Ian Sargeant, Chair of Farnham Educational Foundation. 
Ian visited the campus to receive a Companion Award as a celebrated former alumnus (1955–62) and contributor to the local community.  
He was also honoured with mounting the plaque in the hallway of Morley Court to commemorate the 50th anniversary of Farnham College.  
Gary Headland DL, CEO of Activate Learning, said: "Today we recognise two things. One is Ian Sargeant's great contribution to service and community, alongside the celebration of fifty years of Farnham College. 
"Ian has been a servant of Farnham for a long time and has made an immense contribution to this community. As the Chair of Farnham Educational Foundation, our partner organisation, he has helped us, supported us and challenged us in equal measure.  
"Ian is a great inspiration, and we want to thank him for his service." 
Formerly known as Farnham Grammar School, this educational establishment can be traced back to 1560, during the reign of Queen Elizabeth I.  
Farnham Grammar School was closed in 1973 after educational reforms and became Farnham College as we know it today.  
The Morley Road site has been in use since 1906, where the college is still based today. Farnham College joined the Activate Learning group in 2019 and offers GCSE, A Level, BTEC and Higher Education qualifications to the local community.  
Learn more about the history of Farnham College.