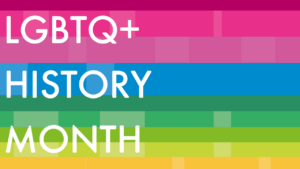 LGBTQ+ History Month is celebrated every February in the UK. It provides an opportunity to acknowledge and celebrate the contributions and achievements made by LGBTQ+ individuals throughout history.  
Looking back at the accomplishments of LGBTQ+ figures can help us learn more about the struggle for equality and the progress that has been made. 
This year's theme is #BehindTheLens. It will celebrate LGBTQ+ people's contribution to cinema and film, with a focus on claiming the past, celebrating the present and creating a positive future towards social justice and fairness. 
LGBTQ+ History Month – prominent figures
Throughout the month, we'll showcase a number of profiles from LGBTQ+ people across our plasma screen. These include:  
Harvey Milk – A civil rights activist and the first openly gay elected official in California, Milk became a political leader and advocate for LGBTQ+ rights in the 1970s.

 

Marsha P. Johnson – A trans woman and LGBTQ+ rights activist, Johnson was a key figure in the Stonewall riots, which sparked the modern LGBTQ+ rights movement.

 

Alan Turing – A British mathematician and computer scientist, Turing was a pioneering figure in the development of modern computing. He was also a victim of persecution for his homosexuality, which ultimately led to his suicide.

 

Elton John – A Grammy Award-winning singer-songwriter and performer, John is one of the most successful musicians of all time and has been a vocal advocate for LGBTQ+ rights and HIV/AIDS awareness.

 

Oscar Wilde – An Irish playwright and poet, Wilde was one of the most prominent figures of the late Victorian era and a leading advocate for homosexuality. He was eventually convicted of homosexuality and served time in prison.

 

Jackie Kay: Award-winning Scottish-Nigerian writer, appointed national poet in 2016.

 
These figures and many others serve as examples of the progress that has been made in the fight for LGBTQ+ rights.  
However, it is also important to recognise that there is still much work to be done.  The struggle for equality is ongoing.  
LGBTQ+ History Month provides an opportunity to reflect on the past and to renew our commitment to creating a more inclusive and equitable future for all LGBTQ+ individuals.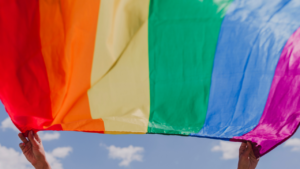 Support at college for LGBTQIA+ students 
Need support regarding your sexual orientation or gender identity? Student Support and Safeguarding are on hand wherever you are in your personal journey.   
You can visit them on campus, call them on 01865 550 041 or email safe@activatelearning.ac.uk.   
Activate Learning does not tolerate homophobia or discrimination of any kind across our campuses. We want all students to thrive in a supportive and accepting environment. 
More LGBTQ+ History Month resources
Please also read the following resources for support services available and further information: