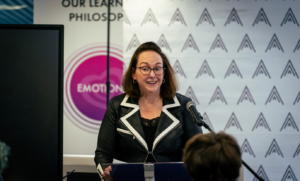 Alexian Wines, a former White House staffer dropped in to visit around students and staff at City of Oxford College.  
Alexian has held various prestigious roles during her careers. These include working under former President Clinton and President George W. Bush, took time to come to the college to speak to more than 90 students.   
Alexian, who is currently Chief Operating Officer at BowerGroupAsia (BGA), a government affairs, strategic advisory, and public policy consulting firm, spoke for 45 minutes during her session, titled 'From adversity to the White House and beyond – and the lessons along the way!'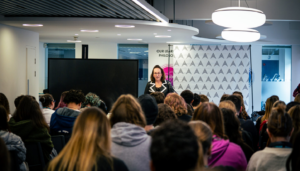 An inspiring careers talk
Sadie Coles, Level 3 Media student at City of Oxford College, said: "I thought it was really inspiring, as it shows you behind the scenes of how people got to where they are today and that your background doesn't always define who you are and how your future will plan out. 
"I thought that it was quite motivating where she said, 'your words matter' and that it is true, that what you say to people sticks, and that was quite eye opening for me.  
"What was also really nice is that you can think you have all the money in the world, and you can get somewhere but if you don't have the motivation then you won't get anywhere in the long run."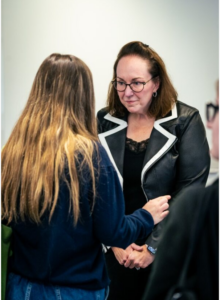 Following her introduction, Alexian addressed perceptions of others, focusing on the difference between biographies versus the 'real' person.  
Cat Marin, Group Director of Group Director of Strategy and Innovation at Activate Learning said: "Alexian was fabulous; she was able to capture the highs and lows of her life and pinpoint those 'crucible moments' in such a relatable way.  
"Her ability to connect with her audience was impressive. The thing that stuck with me was 'words matter' and hers certainly hit the mark with all of us!"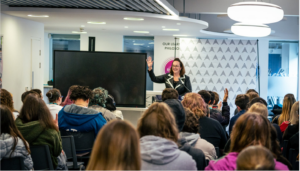 Planning for the future
Gary Force, Media tutor at City of Oxford College, said: "I had just come from a session about planning for the future in terms of careers and Alexian mirrored a point I had made earlier in the day about the importance of failing.  
"Failing is not something to be feared but something to be learned from and used, in that sense she was very inspirational." 
She covered a range of personal aspects of her life and how they affected her professional development and personal growth. 
In addition, Alexian Wines also shared pictures from her official Presidential trips. The audience were then welcome to take part in a Q&A session afterward.  
Learn more about study programmes at City of Oxford College.