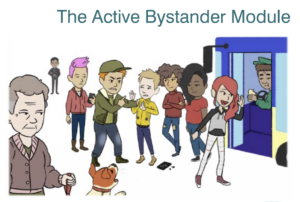 Activate Learning has collaborated with the Violence Reduction Unit (VRU) in Thames Valley Police (TVP) to create an Active Bystander online module for pupils in Years 8 and 9. 
This module contains interactive learning, animations, quizzes and assessments. It has been written by Elsbeth Tibbets, Group Director of Student Experience and Safeguarding at Activate Learning. It is designed for online delivery by the Digital Education Team, with Media students recording voiceovers for the animated characters. 
Active Bystander digital programme co-designed with TVP
It is a digital programme, commissioned and co-designed by Thames Valley Police, with funding from the Home Office's Serious Violence Strategy, as part of the Preventative Education programme. It is linked to PSHE Curriculum and British Values. 
Thomas Goodenough, the Education Lead in TV Police VRU, said: "At Thames Valley Violence Reduction Unit, we are always keen to work with local partners to produce materials and programmes that meet the needs of young people across our region. 
"We have been fortunate to work with Activate Learning on a number of projects now and we know the result will be an excellent product. This Active Bystander Module is another example of that quality and is such an important resource for schools. 
"We want to help build a culture where all people feel empowered and educated on how to be an Active Bystander, in a way which is both safe and effective, as we know the impact bystanders can have on preventing many types of physical and mental harm. We are sure this product will prove a highly effective resource in helping that happen and are grateful to the team at Activate Learning for producing something of such quality." 
Empowering and educating young people
Elsbeth Tibbets, Group Director of Student Experience and Safeguarding, said: "We were delighted to work with Thames Valley Police on promoting Active Bystandership and exploring how to challenge bullying and harassment. 
"If more young people can develop the skills and confidence to stand up to challenging situations safely, this can only be beneficial for our schools, colleges and community environments. 
As part of Activate Learning's ongoing commitment to creating a safeguarding culture, all staff will receive Active Bystander training.