Ruskin College and Activate Learning are delighted to announce today that Activate Learning has been successfully selected as the merger partner for the Oxford-based College.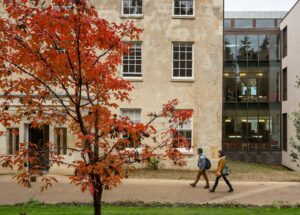 The merger comes following approval from Parliamentary Under Secretary of State for Apprenticeships and Skills, with the formal merger process expected to happen sometime in June 2021.
The unanimous decision to merge will ensure the unique identity of Ruskin College and its values as a college, as well as its long tradition of working with the Labour movement, are preserved in perpetuity.
Sally Dicketts CBE, Group Chief Executive of Activate Learning, said: "I am truly delighted that we have been chosen as the merger partner for Ruskin College.
"Ruskin College chose Activate Learning as its merger partner after it was impressed by our vision for the college and the fact that by merging with us it would ensure their heritage and links with trade unions would be safeguarded for the future.
"When we delivered our merger bid, we spoke about a vision for the the future of Ruskin College as a national centre of excellence for adult learning. I'm very excited about how we will be able to work together to deliver a truly exceptional adult education provision for both our local community here in Oxfordshire and more widely at a national level.
"We want to focus on those disadvantaged learners who would otherwise not realise their full potential within other education environments."
Doug Nicholls, Chair of Governors for Ruskin College, said: "I have always seen Ruskin as a powerhouse of ideas and opportunities but we have recognised that operating as an independent college is increasingly challenging.
"This merger with Activate Learning, with its breadth of resources and scale of delivery across the Thames Valley, will help us to safeguard the future of the college for the 21st Century and transform and improve more lives through access to education.
"Not only do we share incredibly similar visions and values as organisations, but with Activate Learning also being based in Oxford, it means that we are working with a partner that understands our local community and the role that Ruskin College has played within it since it was first founded in 1900."
Paul Di Felice, Principal of Ruskin College, said: "This is an excellent opportunity for Ruskin to realise its potential and secure its future, whilst continuing to deliver its mission for supporting adults in Oxford and beyond."
Ruskin College will now join the Activate Learning group of colleges based across Oxfordshire, Berkshire and Surrey.
These include City of Oxford College, Banbury and Bicester College, Reading College, Bracknell and Wokingham College, Guildford College, Farnham College and Merrist Wood College.
Sue Sturgeon, Chair of Corporation for Activate Learning, said: "I'm delighted that we are welcoming Ruskin College to the Activate Learning Group.
"Ruskin has such a rich heritage and strong identity within the local community of Oxfordshire and at both a national and international level, and by working together we will be able to provide even more opportunities for our learners."