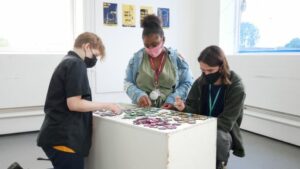 Fabulous fashion, a climate-change inspired magazine, a larger-than-life paper installation inspired by the human body were all part of an exciting art and design exhibition, showcasing the work of our talented Creative Industries students at Activate Learning's Reading College. 
The art studio at the King's Road campus was transformed into an art gallery by students on our Visual Arts and Design programmes. 
The exhibition was open to all students and staff to visit from 24 June to 2 July. 
An array of artwork in various media and styles including painting, life studies, printing, sculpture, photography, 3D art, costume design, mixed media and graphic communication were exhibited, reflecting the individuality and creativity of the College's range of creative courses. 
Students studying the Art and Design Level 2 Diploma displayed their work which was on the theme of connections. What was striking, was that no two pieces of art were the same. 
Jamie Thomas created a metal piece of wall art made up of 100 squares, fixed together by a spot welder.  
Whereas Sharique Kennedy created a painting featuring lines and a human face in the middle to depict connection.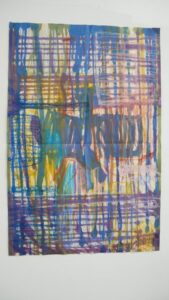 Owen Hayward created an installation with models of phones to represent how connections are made through mobile phones. 
He said: "I decided to create an installation featuring phones to represent that people now have the majority of their conversations through mobile phones. 
"I made a plastic mould of the phones and poured Plaster of Paris into it to create each phone.  
"I put them in different groups to show different types of conversations with ones less than four to be private and ones more than four to be open." 
Megan on the other hand, created a series of interactive jigsaw puzzles featuring different colours and patterns to reflect different types of connections.  
In contrast Emily created a mixed-media piece featuring her favourite three musical icons: Madonna, David Bowie and Freddie Mercury.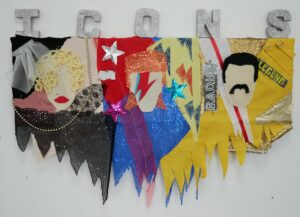 She said: "I wanted to show how music connections people together and highlight how people make connections with musicians. 
"I decided to make it tactile with the use of fabric and other textures, so that people could feel the connection with the piece as well. 
"I chose to depict Madonna, David Bowie and Freddie Mercury as they inspire me and I feel that I have a connection with them." 
One of the highlights of the exhibition was a paper installation by Rachel, who took inspiration from the human body, cells and organisms. Rachel originally studied the Art and Design Level 1 Diploma at the College and has just finished the Art and Design Level 3 Diploma. In September, she will be going to study Fine Art.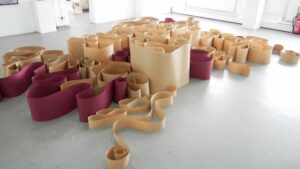 Nicola Fowler, Art and Design Lecturer at Activate Learning said: "The exhibition has given our students a goal to work towards. There was a lot of excitement, especially for the ones who were unable to have a physical exhibition last year due to the pandemic. 
"Students studying our art and design programmes from Level 1- 4 (foundation) were involved. I think it is really inspiring for students studying level 1 or 2, to see what they can do in the future. 
"It also showcases how our students can pursue their individual interests and pathways, made possible by our makerspaces. I'm really proud of them all and their exhibition and I look forward to seeing what they do next." 
Discover our Visual Arts and Design programmes at Reading College or contact us on 0800 612 6008.