Students, staff and members of the public were given a taste of the street as part of a Street Food Event at Reading College and University Centre on Wednesday 8 November.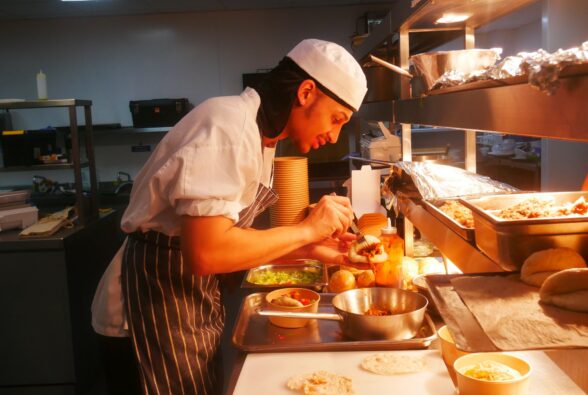 Staff and students could choose from a takeaway menu served in the college's atrium. Members of the public and staff could opt for a sit-down menu in the college's on-site restaurant, The Kitchen.
Dishes on offer included sticky teriyaki chicken burger, pulled pork bao buns, served with pickled shallots, chilli and coriander, pulled chicken fajitas, served with dips, pierogi polish potato, cheese and bacon dumplings, served with strawberry tea, halloumi fries, served with harissa dip, vanilla and chocolate bao buns, served with pear lime compote.
The event was part of a project where the Professional Culinary Arts Level 2 students had to design a dish, cost out the ingredients, methods of preparing and cooking plus allergens, and take part in a competition to decide the menu.
The final six dishes were chosen by the four chef lectures at the King's Road campus, whittled down from 22 entries.
New diners at The Kitchen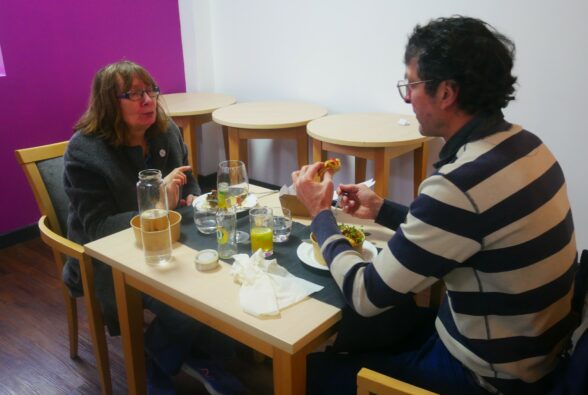 First time diners, Carol and Graeme Clayton, from Tilehurst, were tucking into sticky teriyaki chicken burger, pulled pork bao buns, served with pickled shallots, chilli and coriander, and halloumi fries, served with harissa dip in The Kitchen.
Carol Clayton said: "It's really nice. I enjoyed the flavours. Someone I know, who had been here before, recommended The Kitchen to me.
"It's our first time here and we've really enjoyed it. The students have done very well and there's a really nice atmosphere."
A really good experience
Isaiah Connor, aged 17-years-old, from Reading, is studying a Professional Culinary Arts Level 2 Certificate at Reading College and University Centre.
He said: "It was a really good experience. It was something new which I wasn't really expecting.
"It was good for us all, as we got to make our own dishes for a competition, whoever came top got to cook and serve for everyone.
"I was up at the front of the training kitchen, dishing up at the passe, where myself and Hayden Rushby, our Hospitality Lecturer, were plating up all the dishes.
"When I came into the restaurant, all the customers were giving us compliments, saying how they enjoyed it.
"It helped me to see what it would be like to work in a restaurant and have a practice beforehand."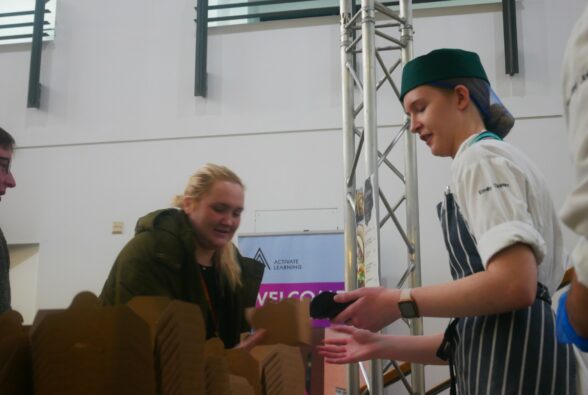 A successful event
Katie McNelly, Chef Lecturer at Activate Learning, said: "I organised this street food project and event for our Professional Culinary Arts Level 2 students.
"The aim of the project was to give my students a real hospitality experience within the college, to set them up prepared and confident to face the challenges within professional kitchens in their future careers, as professional chefs.
"Overall, the event went really well. All dishes were created, prepared and served by the students. Each one of them worked so hard to make this the success that it was.
"We have already received some really positive feedback from the event. Hopefully going forward this will become an annual event that every cohort of Level 2 students can look forward to."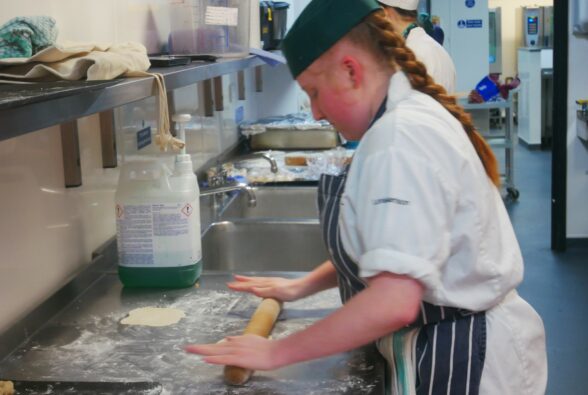 Book a table at The Kitchen
The Kitchen is run by students, supported by teaching staff with industry experience.
The Kitchen is open on Wednesdays and Thursdays for lunch during term time. Lunch service can be booked at 12pm, 12.15pm or 12.30pm. Or for a meal out in the evening, The Kitchen is open on Thursday evenings, during term time, with tables available to be booked at 6.30pm, 6.45pm or 7pm.
The facilities and menus are versatile and can be adapted to suit any dietary needs.
To book a table please call 0118 955 4444 or email thekitchen@activatelearning.ac.uk For more information please visit https://reading.activatelearning.ac.uk/facilities/open-to-the-public/the-kitchen/
Discover our Hospitality and Professional Cookery programmes available at Reading College or contact us on 0800 612 6008.