It doesn't need to be a huge thing either – even just nurturing a plant in your room, tending to a window box or playing with a pet outside can really bring positive gains to your sense of mental well-being.  If you can't get out to nature, see if you can bring a bit in to your home!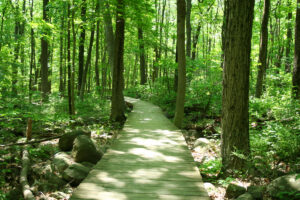 There's no doubt that getting out for a daily walk provides no end of benefits for both mental and physical well-being. Here are our top ten reasons why we should all be getting out in nature more:
Being in nature improves our general mood
Getting out in nature 'grounds' us. It helps us connect to something bigger than us, it helps us to put things in perspective.
Walking in nature reduces feelings of stress or anger
Being in a 'green space' can help regulate anxiety or anxious feelings
Helps us take time out and feel more relaxed
A good walk can improve our confidence and self-esteem
A daily walk helps us be more active and therefore physically fitter
Exposure to sunlight and vitamin D helps combat symptoms of Season Affective Disorder (SAD) and helps keep your serotonin levels up. This helps raise your energy and keeps your mood calm and positive.
Increasing oxygen to your brain boosts your energy, overall vitality and sharpens your focus
When you're out walking in nature, your body releases endorphins that interact with the opiate receptors of the brain. This can reduce the perception of pain and increase a sense of wellbeing.
Did you know that…. Even if we might not be able to physically 'get out', just a glimpse of a landscape can change how we feel. It gives us the opportunity to slow the pace, to be 'present' in the moment. Even just looking at a natural scene is good for our health.