We take huge pride in forming community partnerships and collaborations at Merrist Wood College and we've recently been delighted to support and partner with Shooting Star Children's Hospices on their Christmas Tree Collection and Recycling Service, which has taken place over the past week.  
An enthusiastic group of student volunteers and staff were on hand over the past few days to take delivery of many van loads of Christmas trees which were picked up by volunteer drivers from Sky, Amazon and Keir from homes across local postcodes who had made a donation to this incredible charity.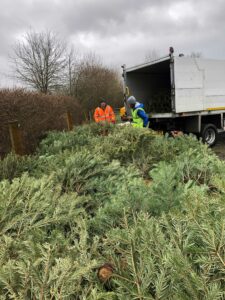 Over 375 trees were delivered, and our Arboriculture and Countryside Management students wasted no time in gaining loads of valuable practical experience by learning how to operate and feed each tree through their state-of-the-art Forst chipper, filling the air with a festive fragrance of pine!  
The resulting huge pile of chippings will be used throughout the year as mulch across our 400-acre site which will benefit our Horticulture learners and Estates Team. 
Rumour Giles, Corporate Relationship Manager at Shooting Star Children's Hospices, said: "Thank you so much for everyone's support at Merrist Wood, it was incredible seeing the students getting involved with chipping the trees and gaining first-hand experience with the machinery.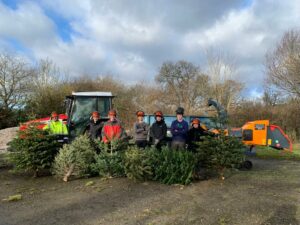 "It was lovely to have so many things going on at Shooting Star Children's Hospices last Christmas, and it is important to find new ways to raise funds so that we can continue supporting children and families."
To date, this fundraising event has raised over £6,500 for the charity, and we are proud to have been able to help with this fantastic achievement whilst at the same time offering some real-life work experience to our learners. 
Sarah Markham, Business Engagement Specialist at the college, said: "We are thrilled to have been a part of such a successful fundraising initiative with Shooting Star Children's Hospices this Christmas.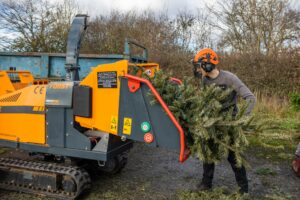 "Community partnerships are something we strongly believe in and, working together in this way, closely aligns to Activate Learning's vision. 
"We are proud to have been invited to be involved and look forward to working with the team again next year!" 
Find more information on courses at Merrist Wood College here