When local building supplies company, Chandlers Building Supplies, reached out to Merrist Wood College to offer them a substantial amount of timber that they could no longer use, the college's estates team were absolutely delighted to oblige!  
Chandlers, based in West End, Woking, even offered to deliver the timber free of charge.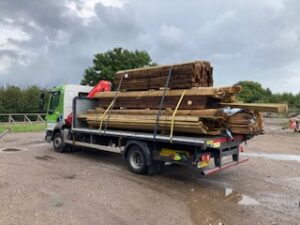 The team at Merrist Wood couldn't turn down such a generous gesture, so it was on a recent morning at the start of term that trucks arrived to drop the timber off in the landscaping department at the college's 400-acre site in Worplesdon.  
Stuart Gowar, Yard Manager at Chandlers said: "Due  to the very hot and long summer we have had, some of our stock had warped in the heat and we were unable to use it.
"We also had a number of deleted lines and off cuts and so we knew we needed to make use of this spare wood somehow. Donating the timber to a good cause made the most sense.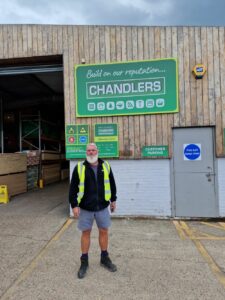 "I offered the timber to Merrist Wood College as my son was a landscaping student there ten years ago and had the best experience. He has gone on to have a career in the landscaping industry and it's thanks to his training at Merrist Wood. 
"We are so pleased that the timber donation has gone to a good home and is being well used around the college site."
The timber will now be put to good use in various ways across the campus. Most of the wood will be used by our landscape and horticulture students as part of their project-based learning experience as well as to enhance and maintain the grounds by creating fences, raised beds, shuttering and the fabrication of timber structures, to name just a few.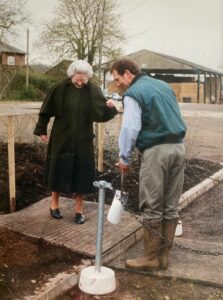 Perhaps the most poignant use will be to create memorial fencing around a tree planted by Her Majesty Queen Elizabeth II when she opened the college's equine arena in 2000.  
Tim Gamble, Rural Estates Manager at Merrist Wood College said: "We are thrilled that Chandlers Building Supplies considered us for this fantastic donation of timber.  
"We will indeed be putting it to really good use and it will benefit our landscaping and horticulture students in their studies and overall experience at the college for years to come. 
"This is a great example of community at its best and we are very appreciative of this kind gesture."