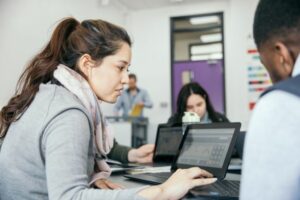 Activate Learning is proud to announce it has been chosen to join the Education and Training Foundation's (ETF's) Centres for Excellence in Special Educational Needs and Disabilities (CfESEND) programme by becoming one of eight new employer spokes across the country. 
As a Further Education (FE) provider with a particularly strong relationship with a wide range of employers, including those with a track record of employing learners with SEND, we plan to bring together FE providers with employers from different industry sectors to show how businesses can benefit from diversifying their workforce.
We will be joined by the seven other FE providers also named as spokes this week:
LTE Group with an offer led by the NHS and start-up businesses

Oldham College with an offer led by by a range of trend-setting SMEs

National Star with an offer led by wealth management, facilities management and learner self-employment

Luminate Group with an offer led by museums and art galleries

Hampshire County Council with an offer led by construction (highways) and employment hubs

London South East Colleges with an offer led by theatres and sports

Dynamic Training with an offer led by health and social care with a specific focus on supported apprenticeships.
At Activate Learning, our offer will include a programme of activities to connect local employers from different industries with people with SEND, showcase their skills and suitability and illustrate the benefits of diversifying their team.
Teresa Carroll, National Head of Inclusion at ETF said: "As the country recovers from the effects of both Brexit and the Covid pandemic, learners with SEND are a huge untapped resource to employers and businesses. Eighty one per cent of non disabled people are employed whilst only 52% of people with disabilities are employed, hiring people with SEND is not just the right thing to do, but makes good business sense too."   
Gill Davidson, Executive Director at Activate Learning said: "We are so pleased to have been chosen as one of the eight spokes which will deliver this programme across the county.
"It is vital we build on Activate Learning's success in preparing and securing young people with SEND into employment.
"Through development of our curriculum, supported internships and our excellent employer partners we will continue to challenge perceptions, raise aspirations and work with CfESEND to create excellent practice across the country."
The CfESEND programme provides expert support for leaders, managers and practitioners who wish to put learners with SEND at the centre of their organisation as part of a Department for Education (DfE) funded national programme. The Centres are hosted by Weston College, Derby College and City College Norwich. The programme began in 2019.