A group of Level 3 Travel & Tourism students from Guildford College recently spent a day exploring Venice as part of an educational and student planned trip linking to the Events and Conference part of their course.
This is the first trip outside of the UK that our Travel and Tourism students have been able to plan in four years due to past covid restrictions. 
As part of this unit, the students are tasked with planning and carrying out a day trip.  At the start of term 1, the group collectively decided on a budget and then researched a destination that they could visit in a day. 
After a presentation to the class including destination options of Rome, Venice, Barcelona and Copenhagen the group unanimously agreed on Venice as the winning location for the trip.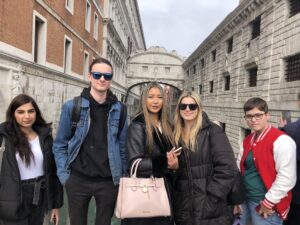 The students researched and chose the flights and made an itinerary for the day. They also created their own code of conduct and their roles and responsibilities for the day of the visit.    
The 'big day' finally came and after an early start, the group took off from Gatwick just before 7am, leaving the cold and dreary English weather behind them.  After a fairly quick and uneventful flight across Europe, they soon arrived in St Marks, after taking the water taxi from Venice airport.   
Starting in St Mark's Square the group took in the sights at the famous Bridge of Sighs and were then ready for a delicious and authentic Italian pizza lunch.  
After which, they managed a gondola ride along the canals before making a stop for ice cream and having some free time at the famous Rialto Bridge for souvenir shopping.  
All too soon the students along with their tutor, Chris – who supervised the day – took a water taxi back to Venice airport to catch their flight home as the sun started setting on the Grand Canal, arriving back at Gatwick just before 11pm!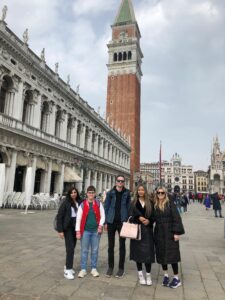 Tutor, Chris Duffield, said: "Planning a trip such as this one really brings the students classroom theory to life and enables them to experience all the preparation that goes into planning an event as well as bringing together many aspects of their course covering overseas travel, cabin crew and destinations.  
"They got to witness airport operations, the role of cabin crew and experienced different methods of travel as well as visitor attractions which are an important element of their learning. I am extremely proud of them." 
What our students said
Elena: 'Venice was wonderful, and it was honestly like being on a film set. I'm Italian and so it was nice to go back to somewhere that I had been before'
Christopher: 'The fact we planned the day ourselves and only spent £95 on it was amazing'
Lucy: 'The day was definitely a slay!'
Maryam: 'There was beautiful scenery, water looked amazing. It was an amazing trip'