Guildford College is delighted to step in and give a well-loved community project and local charity, Bike Project Surrey, a new base.  
Until recently, The Bike Project workshop and hub was located at the Woking Road Dept, not far from the college, but local development plans required them to find a new space.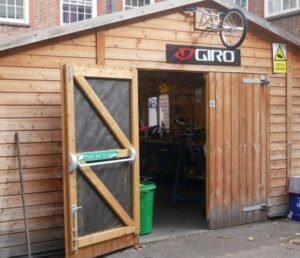 After months of searching for a suitable location Bike Project Surrey have now secured a new space on the Stoke Road campus as part Guildford College's ongoing commitment to supporting and collaborating with its local community.  
The new base comprises of a lockable workshop where bikes of all types are refurbished by students and volunteers of the charity, as well as a storage area for their stock.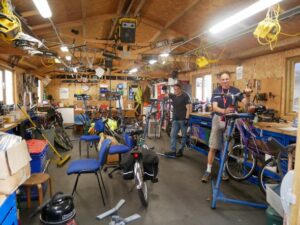 Conceived in 2006 by Surrey Lifelong Learning Partnership, Bike Project Surrey is an end-to-end recycling initiative which refurbishes donated bikes, provides accredited training and work experience for the whole community – in particular young people and adults who are not in work or education whatever the reason. 

The charity works to ensure that those, in Surrey and beyond, who may have missed out on learning in the past, have opportunities to learn and to reach their full potential. 
Refurbished bikes are sold to the community at an affordable price and the income "recycled" to sustain the project.  
Gary Headland, Chief Executive of Activate Learning, said: "I am absolutely thrilled we are able to offer a new home to such a great local initiative that provides such a fantastic contribution to our local community.
"Bike Project Surrey's commitment to sustainability and provide lifelong learning opportunities are so closely aligned to Activate Learning's vision and the things that drive us, that this feels like a really great arrangement for us.  
"Guildford College has been a part of this community for and we are so pleased to be able to step in and support our community in this way at a time of need. I believe this will be the beginning of a really fruitful relationship."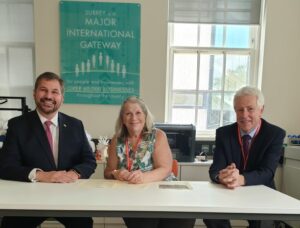 The college are keen to work collaboratively with the project in terms of the possibility of progressing learners on to higher level courses based over at its Cycle Academy at sister college, Merrist Wood College, just a couple of miles away in Worplesdon as well as the potential of offering the college's students a more eco-friendly and free mode of transport to and from their lessons!
Kevin Delf, Chief Executive of Surrey Lifelong Learning partnership said: "We are very excited to now be based within the vibrant setting of Guildford College.  Being able to partner with a college opens up a lot of opportunities for our loyal volunteers both in terms of learning, gaining confidence and the possibility of getting back into education which will truly transform lives. 
Working alongside Guildford College, sharing the same ethos of nurturing people,  this relationship feels like a perfect fit and we look forward to working on many new initiatives together going forwards."