A group of Level 5 Wildlife and Conservation students from Merrist Wood College recently undertook some practical work experience within the grounds of a local retirement home
One of the main draws of studying this subject at Merrist Wood College is that teaching is practically focussed, helping students to start a career in industry.  
A key skill required by professional ecologists and conservationists is to be able to go into a new site, assess its importance for conservation and manage it sympathetically to enhance that value.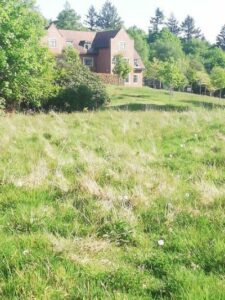 So, when residential property management company First Port gave the group the opportunity to visit and complete some wildlife surveys of its extensive grounds at Oak Hall Care Home, situated within the Wispers Park estate in Haslemere, the team jumped at the chance! 
Tucked away in rural Surrey, Wispers Park contains a large estate of ancient woodland, grassland and ponds.  
The students spent two days undertaking surveys using environmental DNA techniques (sampling for biological material) to test for presence of scarce amphibians, camera trapping (where they found badger, roe deer and muntjac) and Quadrat surveys for habitat identification.  
The data collected will be used to complete habitat surveys and classification as well as site evaluation enabling the team to provide overall management and site improvement advice to the site managers.
Merrist Wood College Wildlife Conservation lecturer, Mark Stevenson, said: "This was a great way for students to get a taste of what it is like to work in consultancy, public body or charity that manages land for conservation. 
The surveys produced some interesting results which show that the site is of significant value and the owners of the estate are keen to put the student's recommendations into practice. We thank Wispers Park for the opportunity to provide such valuable work experience for our students." 
It's not too late to apply to join our Wildlife and Conservation foundation degree programme in September! Go here for more information or call us on 0800 612 6008.