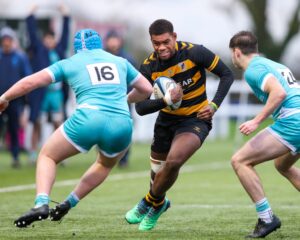 City of Oxford College Wasps ACE programme are delighted to announce that three graduates from the 2021/22 season have signed with the Gallagher Premiership Rugby.
Students Asher Opoku and Epi Rokodrava have signed Senior Academy contracts with the club whilst Mason Winterburn has signed an Academy scholarship and will combine his training with full-time study at Leeds Beckett University.
Combining learning with rugby
The unique partnership between the college and club allows the players to focus on both their rugby and academic development giving players the best opportunities to succeed in the classroom and on the playing field.
City of Oxford College Head Coach, Alex Guest, commented on the trio saying: "All three students are a credit to themselves and their families. They had an outstanding season in the Wasps ACE league at the college and transferred that to the academy league for Wasps."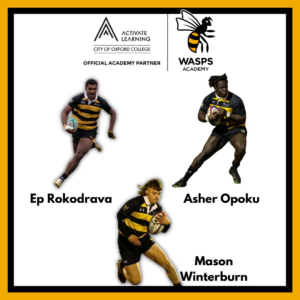 Asher Opoku, Wasps ACE Rugby and BTEC National Extended Diploma – Sports Coaching student, said: "The experience at Wasps ACE Rugby at City of Oxford College was truly one of the best of my life both with education and rugby.
"This split allowed me to excel in my rugby career being able to push through in the academy as well as being able to study what I was passionate about."
Epi Rokodrava, Wasps ACE Rugby and BTEC National Extended Diploma – Sports Coaching student, said: "When I first started at college it was a bit of a shock to the system having to manage a full-time rugby schedule and balance it with my studies.
"However, with the help of the coaching staff and teachers around me it made the two years flow smoothly and as easy as it can get which I really enjoyed.
"The quality of the rugby and coaching has played a massive role in helping me develop and become not only a better player but also a better person on and off the field helping me to where I am today."
Supporting a passion for sports
Mason Winterburn, Wasps ACE Rugby and BTEC National Extended Diploma – Business student, said: "Throughout my two years at college I felt as though it has helped me develop as a rugby player and also as a person. I have created great memories on and off the pitch that I will remember forever.
"I found that mixing the academics and rugby at the same time was easier than expected because of the help from coaches and the staff who both had my best interests in mind. I was able to get the academic results I wanted as well as following my rugby aspirations simultaneously."
Learn more about available Wasps ACE Rugby programmes at City of Oxford College.