Beauty therapy students from City of Oxford College learned more about treating those with long-term illness and about five-star wellness at The Randolph Hotel's Wellness Centre earlier this week.
Led by Laura Bettini, Wellness Centre Spa Manager at the hotel, the students were given a tour of The Randolph Hotel before being welcomed to its Wellness Centre.
Amanda Winwood, Made for Life Organics founder, gave a presentation introducing students to the brand and the Made for Life Organics products exclusively used there.
She detailed the benefits of touch therapy, what defines organic cosmetics and how to treat those with cancer or lower immune systems.

Learning more about the benefits of touch therapy
Laura said: "It was a pleasure for us and a privilege to meet the faces of the future in spa and wellbeing.
"The students were introduced to organic skincare and how to welcome people into spas with long-term health issues. This provoked great questions and some impeccable students wanting to work with us in the future."
Students learned that the percentage of organic ingredients present in a cosmetic to be defined is as little as 1.75%. Whereas Made for Life Organics offers 100% organic ingredients.
The company was the first in the UK to achieve 100% organic certification across its collection from the Soil Association.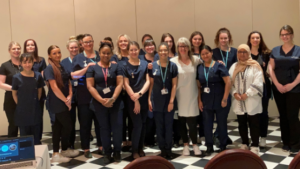 Only 10% of UK salons treat customers with cancer
Laura added: "Amanda detailed the importance of being able to welcome and treat all people. This includes those undergoing chemotherapy and have a low immune system. Currently, only 10% of salons treat customers living with cancer in the UK.
"We tried to express to the students our passion for wellbeing. The main treatments we offer include massage, facials and body treatments.
"We are very proud to be able to offer treatments to guests with lowered immunity. It's rewarding for the team and guests too."
Stacey Jane Edwards, Beauty Therapy teacher at Activate Learning, said: "This was an excellent opportunity for the students to learn about the ever-growing wellness industry. One that is redefining how clients seek relaxing beauty treatments for self-care.
"Amanda did a wonderful presentation. Students learned about touch therapy, Made For Life Organics, their work with Dr Spiezia and how wellness is growing. We then had a tour of the spa where the wellbeing of the therapist was highlighted along with the client.
"We would like to thank Amanda Winwood for her time in speaking to our students along with the team at The Randolph Hotel. I think we all agree it was a fabulous visit."
A fresh insight into a new area of beauty therapy 
Talia Thomas is studying for a Beauty Therapy Level 2 Technical Certificate.
She added: "This experience has given me a great insight into an area of the beauty therapy industry I did not know much about and how it was growing. I really want to be a part of it."
Find out about Beauty Therapy programmes at City of Oxford College or contact Activate Learning on 0800 612 6008.