City of Oxford College and University Centre would like to congratulate all the students who passed their A Level qualifications today.
The college maintained a 95% pass rate across all A Level subjects compared to last year, and A* to C pass rates have increased by 42% since pre-pandemic year 2018/19.
Eleven of the 19 A Level subjects at City of Oxford College and University Centre secured 100% pass rates.
All 12 Media Studies students achieved grade A*-C, with eight of those students achieving a B grade or higher.
English Literature students achieved a 100% pass rate, which is 2.5% above the national average, and 77% achieved grade A*-C.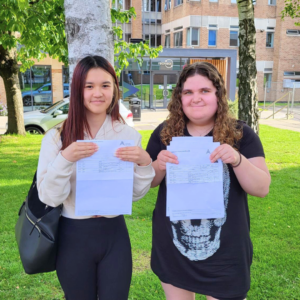 Cheri Ashby, Deputy Chief Executive Office at Activate Learning, said: "I'm delighted for all the students across Activate Learning today who are collecting the results they need to go on and accept their places at university, take up an apprenticeship or enter employment with training.
"I know how hard everyone has worked and I want to extend my heartfelt congratulations to our students and appreciation and gratitude to our staff.
"Our students have exhibited unwavering determination and resilience in the face of unprecedented challenges brought forth by the pandemic, and it's important to recognise and acknowledge the impact this still has on our young people.
"I'm very proud of the fact that, throughout these tumultuous times, Activate Learning has supported students, offering innovative and technological solutions to ensure their educational journey remained uninterrupted. We are immensely proud of their accomplishments and the strength they've demonstrated.
"I recognise that for some, today's results may be disappointing and there will be some who may not have quite achieved the results they anticipated. If this is the situation for you, please know that Activate Learning is here to help.
"This offer isn't just for students who have studied with us. We are committed to supporting everyone in the local communities we serve, and we will offer careers guidance, resources, and a supportive hand to navigate the next steps for anyone who needs it.
"Let's come together as a community, supporting each other through the ups and downs. To all our students, your accomplishments deserve celebration and recognition, and we're excited to see where your journey leads next."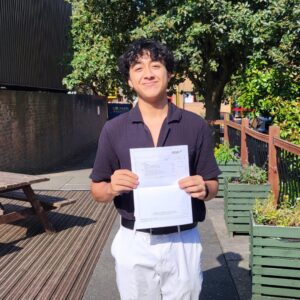 Callum Bennett was one of the college's top performers, achieving an A grade in English Literature, an A grade in Religious Studies and a B in Psychology. He will now take up an offer from his first choice university, University of Essex, to study Modern Languages.
Callum said: "I was quite nervous, but I'm really pleased with my results and am looking forward to going to university."
Finn Meikle achieved a B grade in Law, a B grade in English Literature and a D grade in Psychology. He is going to study Business Law at Swansea University.
Finn said: "I'm very happy with my grades as I got into my first-choice university, and I'm looking forward to the future.
"My teacher has prepared me for what to expect when studying law at university. So, I'm very grateful for the support from my teachers."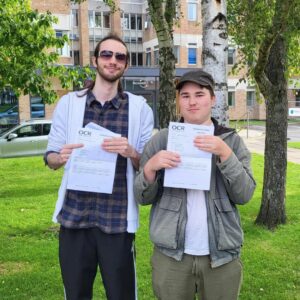 Ella Tamale-Sali achieved a Distinction in T Level in Health. She will take a gap year to work, and will then do an apprenticeship in nursing. After this, Ella plans to go into paediatric nursing.
Ella said: "I'm so happy and excited. I did not expect to do this well, so I am really pleased and I'm looking forward to seeing where it will take me in the future.
"I've met some really great people at college and my teachers have been so helpful. I was working while I was studying, and there was lots of support available for me."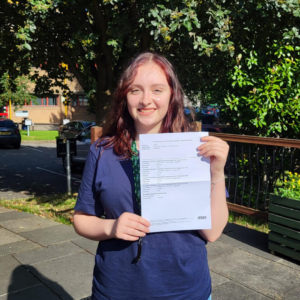 Heidi Preghenella achieved a Distinction in T Level in Health and will now go to the McTimoney College of Chiropractic to do a Chiropractic course.
Heidi said: "I am really happy with my grades as I did better than I was expecting. I am really looking forward to starting my Chiropractic course."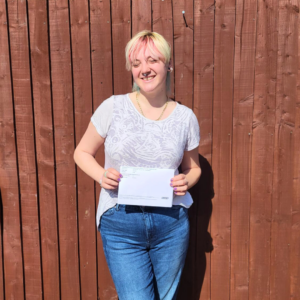 City of Oxford College and University Centre teaches a wide range of A Levels, having previously expanded their provision in September 2022.
These include Art and Design, Biology, Business Studies, Computer Science, Chemistry, English Language and Literature, English Literature, Further Mathematics, Geography, History, Law, Mathematics, Media studies, Physics, Philosophy and Religious Studies, Politics, Psychology, Sociology and Spanish.
The two Activate Learning campuses in Oxford also offer Higher Education programmes, including degree subjects ranging from Business, Construction, Digital Technology, Education, Furniture Design and Make, and Sports Coaching and Apprenticeship opportunities
The college is offering Clearing and Careers Advisor sessions to anyone who is unsure as to what to do next after their A Levels. More information is available on the Activate Learning Adult Education website.