Activate Learning was recognised for its online education programme with a win at the Edufuturists Uprising awards on Thursday (04/05).
The college group received the Outstanding Online School Award, which celebrated the innovative approach Activate Learning has taken with its industry-leading online provision.
Activate Learning launched its online programme in 2020 just prior to the pandemic, as part of an initiative to widen participation in education and help people improve their lives through learning.
Last year, the programme reached sector-leading results with the proportion of our online GCSE students who achieved 9-4 grades, is significantly higher than nationally with 79.1% achieving a 9-4 compared to the national 9-4 pass rate of 46.1% and 92% of our Access to HE learners successfully applying to university.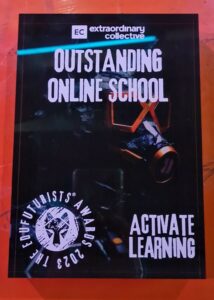 Jonathan Adams, Group Executive Director at Activate Learning, expressed his gratitude for the award and praised the commitment of the team behind this award-winning programme.
He said: "We are absolutely delighted to be recognised with the Edufuturists Uprising award, which is a testament to the exceptional efforts of our staff and students in creating an outstanding online learning environment.
"Online learning represents a once-in-a-generation opportunity to transform the quality and accessibility of adult learning. We have already reached more than 3,000 learners with our online programmes which skilfully combine the best of digital technologies with a coach-led approach to learning."
"We are incredibly proud of the team and grateful for the opportunity to showcase our dedication to innovative and engaging online education."
Preeti Mahajan, Head of Online Projects at Activate Learning said: "We are thrilled to receive this prestigious award and proud of the dedication and hard work of our team in creating an outstanding online learning experience.
"Our focus has always been on providing our students with a dynamic and engaging digital learning environment, which challenges and supports them to achieve their full potential.
"This award recognises the innovative approach we have taken to online learning and encourages us to continue pushing boundaries to enhance our students' experience."
To find out more about Activate Learning's online programmes you can visit the Activate Learning Adult Education site to look at the various courses available.