Modern, state-of-the-art training facilities at City of Oxford College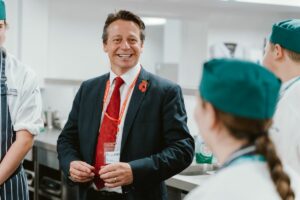 The new facilities include state-of-the-art training kitchens, featuring industry-standard equipment. We at Activate Learning identified the required equipment in partnership with our leading hospitality and catering partners, Heston Blumenthal's The Fat Duck Group.
This was all made possible thanks to £2.17million in funding by the Oxfordshire Local Enterprise Partnership (OxLEP), through the government's Local Growth Fund.
At the same time, we paid for and built a new heart to our city-centre campus by adding a refectory and student area. This brought the total cost of the project to over £3million!
This investment at City of Oxford College follows both local and national demands for highly-skilled, work-ready staff to take on roles within a vital sector for the local economy.
New hospitality and catering opportunities, built on proven success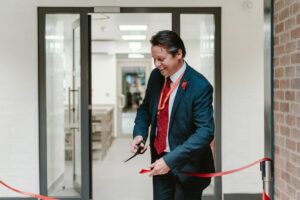 Nigel Huddleston, Tourism Minister, came down to the college to officially open the new facilities.
He said, "I was delighted to open Activate Learning's brand-new hospitality and catering facilities at City of Oxford College. I can see first-hand the fantastic opportunities that await the next generation in these sectors.
"Tourism and hospitality make vital contributions to our economy. We need to make sure we have a strong pipeline of talent coming through to help build back better for the future."
Sally Dicketts CBE, Chief Executive of Activate Learning said, "We have a long track record of providing the hospitality and catering sector with amazing talent from here at City of Oxford College and these new facilities will allow this brilliant work to continue for years to come.
"This is a fantastic example of how further education can work with central government to develop a strategic response to a long-term need for the local economy.
"These ultramodern, state-of-the-art training spaces will ensure students have real-life, practical experience of working in the sort of kitchens they will expect to find when they go out into the workplace.
"They will also allow us to strengthen and build on the outstanding relationships we have with local employers, by offering more opportunities for them to come into these facilities and offer practical demonstrations and skills workshops."
A curriculum and facilities that teach the skills that employers want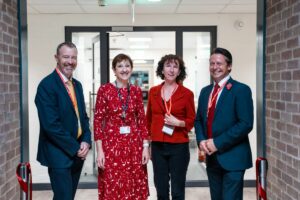 Nancy Buckley, Director of Career Pathways at Activate Learning, said, "We work with hundreds of employers in the hospitality and catering sector across the Thames Valley. We know that people are desperate for good staff.
"Here in Oxford, the situation is no different. There are exciting opportunities out there for people with the right skills, so we've worked hard to develop a curriculum that delivers these skills. Now, we have amazing facilities for students to work in, too!"
Nigel Tipple, Chief Executive of OxLEP, added, "We were delighted to secure such a significant level of investment for this project, leading to the development of a state-of-the-art facility that will undoubtedly play a major role in inspiring young people from across Oxfordshire to discover opportunities within the hospitality sector.
"As we are all aware, the pandemic created unprecedented challenges for the leisure, tourism and hospitality industry. Therefore, the opening of this new, multi-million pound suite, will underpin a vibrant sector that is not just vital to our own economy, but the UK economy too, creating a pipeline of major talent, for many years to come.
"As the Local Enterprise Partnership for Oxfordshire, we will continue to champion such a vital sector working with both industry and our education providers, ensuring a positive future ahead."
Discover our hospitality and professional cookery programmes available at City of Oxford College or contact us via 0800 612 6008.
OxLEP pushes forward Oxfordshire's economic recovery
This development is a major feature that is outlined within the business-driven economic recovery plan, led by OxLEP, released in February this year.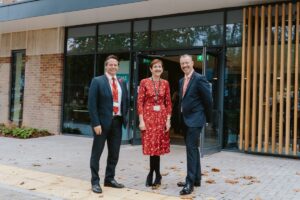 The plan aims to support key sectors and industries hardest-hit by the pandemic. OxLEP hopes that by securing investment that supports the development of talent into the leisure, hospitality and tourism sectors, young people will be inspired to take up careers in one of the biggest industries in the UK.
Prior to the COVID-19 pandemic, tourism supported 10% of all employment in Oxfordshire. This contributed £2.17billion to the local economy. Nationally, it was worth a staggering £100.8billion.
Despite facing significant challenges throughout the pandemic period, and being impacted by the loss of staff due to Brexit, there are now significant green shoots of recovery for the sector.
According to a recent Office of National Statistics report, job vacancies in the hospitality sector have seen large increases nationally and are now higher than pre-pandemic levels.
The opening of the new suite sits alongside significant, further support provided by OxLEP to the sector.
More widely, many hospitality-related businesses benefit from OxLEP's backing. Since March 2020, they have supported a significant proportion of the 2,000-plus Oxfordshire-based businesses in the leisure, tourism and hospitality space.
To-date, OxLEP has administered in excess of £5million-worth of direct funding into the county's business community across multiple sectors.