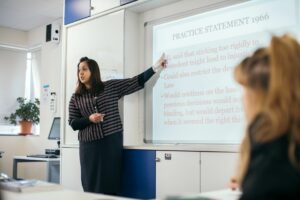 The projects, the twin-stranded College Collaboration Fund project and the MAGNET Project, will help us strengthen teaching and learning practice, enhancing the educational experience of our students and professional practice for our teachers.  
Staying the Course and Perfect Progression 
Activate Learning is working closely with Bournemouth and Poole College and Newbury College in an exciting project to develop sector-relevant toolkits, helping raise retention and progression among our Level 2 students.  
Our project, Staying the Course and Perfect Progression is funded by the College Collaboration Fund, a peer-support programme to help FE colleges share good practice.  
Speaking about the project, Anne Haig-Smith, Director of the Applied Learning Foundation at Activate Learning, said: "This is a very targeted project to understand more clearly why some students leave our courses before they complete them.  
"By doing this, it will allow us to put better interventions in place to support them before they make this decision. 
"We recognise that people leave their courses for different reasons, including issues related to aspirations and self-confidence, which is where we can look at how we apply our Learning Philosophy to understand how their emotional state might be affecting their motivation and ability to learn.  
"There are also the Level 2 students who decide to leave Activate Learning once they have completed their course. We want to make sure that we are doing everything we can to encourage them to stay, successfully complete their Level 2 course and progress on to one of our Level 3 programmes.  
"By doing this, it widens their choices and unlocks exciting career choices, whether that's going into the workplace or progressing on to higher education. "   
Introducing the MAGNET Project 
This is the second project that Activate Learning has won funding for and will help to develop new teachers.  
The MAGNET (Mentor and Grow New and In-Experienced Teachers) project is funded by the FE Professional Development Grant Programme offered by the Department for Education. 
It is being run in partnership with Barnet and Southgate College and the Research College Group.  
A total of 60 teachers, including 40 from Activate Learning, will take part in this project.  
"This is a fantastic opportunity for new and inexperienced teachers to upskill and develop around their peers," said Anne.  
"We recognise how important it is to support and train new teachers and so it's great to be able to deliver a project like this which is completely focused on this area." 
There are four key areas of focus:  
Ring-fence time for teachers in the project, to allow time for them to participate in this project in a meaningful way.  
Identifying mentors and training new ones to support new and inexperienced teachers.  

Write, pilot, evaluate and publish a set of short value-add sessions to supplement existing training programmes  

The Research College Group will research and write a descriptive Practice Review of support for early career teachers in further education. This research will allow us to create a draft FE version of the current schools-focused early career framework to offer to the Department for Education.  
Both projects will run until March 2022.